Tumblr header or banner is the primary image that appears at the top of your Tumblr blog. It's a welcome picture that resides above the fold. It appears to anyone who visits your Tumblr blog right away. The banner may or may not be visible at each post and depends on the style and configuration. The Tumblr banner is editable. The theme settings allow you to customize it.
Your header is the first thing that a visitor sees when visiting your blog. So, the header must be enticing and convincing. Thus, you can't use any picture as a filler here. That is because it would hurt the customer experience.
A bad header will boost the bounce rate, and most users will not scroll down if the header is unappealing. Readers must be able to communicate with the header.
If you are keen to boost your activities further, you should consider adding the following cover images for LinkedIn, Twitter & Facebook as well. Make sure to match the branding to increase brand-recognition.
What is the actual size of a Tumblr header image?
Tumblr headers must be 3000x1055 pixels for desktop and 640x360 pixels for mobile. Set the banner's proportions to those of a desktop computer, and it will change for mobile. For desktop, the aspect ratio is 2.84:1.
The below image explains the dimensions of the Tumblr header image.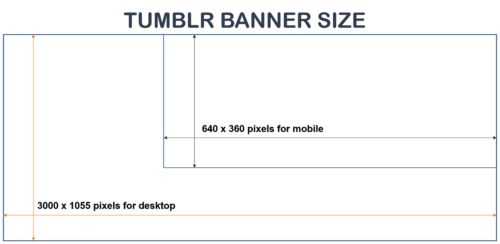 The banner's width and height must be 3000 px and 1055 px, respectively. That is the ideal size for a Tumblr banner.
Uploading a header of the mentioned dimensions fills the space. Also, the header does not get blurred and isn't cut off in any way.
Here are some points to consider:
The mobile banner has a 16:9 aspect ratio.
Upload the header in JPG, PNG, or GIF format.
The banner's maximal file size is 10 MB.
Ideas on creating custom Tumblr banners
You cannot underestimate the significance of a header as that's the first thing you see. Bloggers with a Tumblr account should focus on creating a stunning Tumblr banner that can help the brand's Tumblr page stand out.
Here are a few ideas to consider while creating custom Tumblr Banners.
Visit Competitor/Top Performing Blogs: Good images get produced twice: first in the brain, then in reality. And, your banner is no exception. You want more and more interaction by making an appealing Tumblr banner design. So, look at the banner images of Tumblr's best-performing blogs/competitors. Yet, there is a difference between taking an idea and copying someone's design.

Make Your Niche Specific: Every company has a different Tumblr banner design need. What works in the automobile market may not work in the food and hospitality industry. As a result, getting a thorough understanding of your niche is critical.

Choose a suitable image: Choosing an appropriate picture is an essential factor when designing a banner. It would be best if you chose an icon that reflects your brand's personality. Keep your profile picture in mind when selecting the banner image.

Stick to the Upload Limits: When making Tumblr Banner templates, keep the upload limits in mind. The effort put into making a header would go to waste if the picture can't be uploaded. Tumblr limits your uploads to 10 MB for static images and 2 MB GIFs.
Don't worry if you aren't an experienced designer. Tools like Canva and Stencil will help create impressive designs as per your niche. Learn more below.
How to create Tumblr banners for free?
Create eye-catchy and professional Tumblr Banners without a professional designer using free tools. One of them is Canva, and the other is Stencil.
Let's have a look at each of them.
Canva
Canva is a free & online graphic design tool. You can create invites, business cards, Instagram Posts, Tumblr Banner, etc.
Customizing thousands of templates is quick and straightforward, thanks to a drag-and-drop interface.
Canva's vast feature set allows you to edit images with ease. Even when you don't have a lot of experience in picture editing, you won't face any challenges.
Stencil
Stencil is a web-based graphic design platform. Anyone with little or zero graphic design experience can develop visual design assets. These include social media images, banners, and website images. Using Stencil is basic and intuitive. Anyone should check out their free plan with minimal features.
After signing up, you have the option of using their web editor, browser extensions. You can even use their WordPress plugin.
How to design Tumblr banners with Stencil?
To get started with Stencil, visit Stencil, create a Free Account and log in.
Here is how the Homepage looks.
After Logging into Stencil, you can see the main page or your workspace to edit the images. To edit or design Tumblr's Banner, first, change the dimensions. You can set custom dimensions. As discussed earlier, the Tumblr banner size is 3000x1055 pixels. So custom it as per the dimensions.

After setting up the dimensions, you can go to "Templates." To use this feature, you need to upgrade to a Pro plan. On the other hand, you can upload a background image from your computer.

Edit as per needs and get your image done.

After your image editing gets completed, save the image. Click on the download option to save it to your desktop.
How to design Tumblr banners using Canva?
To get started with Canva, visit Canva, create a free account and log in.
Here is how the Homepage looks.
After Logging into Canva, it will direct you to its main page. You can see a wide range of options to design images.

Choose the "Create a Design" option. From the dropdown options, choose "Tumblr Banner."

This will direct you to the workspace where you can edit or design your Tumblr Banner.

Choose an appropriate template from the list of templates. You can simply drag the templates and place them in the empty space. Likewise, you can choose an image of your option from your desktop.

There are many free templates, elements, text, etc., that you can add to design or edit the image. For using the paid features, upgrade to the "Pro" option.

After your image is ready, you can download the image as per your preferred format.
How do you put a header on Tumblr?
The following steps will assist you in putting a header on Tumblr.
Access the Tumblr dashboard by logging into your Tumblr account. To make changes to a site, click on the link to the blog you wish to change.

Select "Customize" from the drop-down menu. Look for the "Appearance" segment.

Click "Upload" after scrolling down to the "Header Picture" section.

Decide about which picture you want to use as the header.

Select "Open" on your Tumblr site, and the image appears as the top banner.
How do you make your Tumblr header a GIF?
Let's look at some quick steps to make the Tumblr header a GIF.
Go to your Tumblr page and log in.

Then, at the top of the list, press the gear icon to go to the Settings/Customizing screen.

You'll see that all the header settings are available there.

Select Edit Appearance from the drop-down menu.

So, on the top right, press the first Pencil button.

When the pop-up window opens, select Choose a picture.

Locate the .GIF file you want upload, select it and wait for it to get uploaded. The maximum width is 500px, and the maximum file size is 1MB.

When you are done with the updates, hit Save.

Refresh your tab, and you can see that your header has changed to the GIF you chose.
Summary
A Tumblr banner is a header picture for your Tumblr blog. It gives your readers their first experience and will persuade them to read your blog. It's a crucial portal that welcomes your readers into your blog's universe.
Consider using the Tumblr banner as your blog's star character. It would be easier to get users to follow your Tumblr profile if you have a cool Tumblr banner.