LinkedIn is a social media network that allows users to perform networking, content marketing, and promotions. Users can learn more about their industry and find job opportunities as well.
If you want to generate leads through Linkedin, it is essential to add a banner image. Nowadays, a lot of people on Linkedin still have the default banner. You can make your profile stand out by changing the standard banner.
Here's what a standard LinkedIn cover image looks like:

If a potential client lands on your profile, the first thing they will see is your LinkedIn banner. This is because the banner displays above your name, location, and introduction.
It is clear that your banner image may affect your impression of the user viewing your profile. This will help you when you are job hunting and connecting to recruiters too.
So, do you want to make your LinkedIn banner unique and up to date? Keep on reading to learn more about unique LinkedIn banner ideas and how to make one for your business.
What is the LinkedIn Cover Image Size?
Here are the image dimensions (width x height) for the LinkedIn cover image:
Banner Image: The cover image size for a LinkedIn banner image is 1584 x 396 pixels tall for a personal account. The maximum file size for the banner image is 4 MB. Remember that the ideal aspect ratio for a LinkedIn cover image is 4:1.

Company Page Banner Image: The cover image size for the company page banner image is 646 x 220 pixel tall. The maximum file size allowed is 2 MB, accompanied by an aspect ratio of 2.93:1.
Consider the file-size!
It's important to consider the maximal file size. Otherwise, you won't be able to upload your image.
Have a look at the graphic below for a better understanding of the cover image area and size:

This includes the parts covered by the profile photo. Make sure to consider the profile photo to avoid placing import information in the covered area.
How do I add a banner to my LinkedIn profile?
Follow these steps to add a banner image to your LinkedIn profile.
Head towards your profile page and click on the camera icon displayed in your banner area.

A popup window will appear on your screen. Click on the "Edit Profile Background".

After clicking that button, select your profile image from your computer folder. Now select the "Open" button.

After uploading your picture, you can adjust it as per your requirements. When done, click on the Apply button to save changes.
This is how you can add or change your LinkedIn banner image. But remember, the ideal size should be 1584 x 396 tall. Keep the file size below 4 MB as this is the maximum file size..
How do I avoid LinkedIn compressing my images?
Your banner image becomes blurry when you use a smaller photo or a photo with less than 72 DPI. Apart from this reason, the JPG file format can also lead to blurry banner photos.
The image you use should be exactly 1584 x 396 pixels and at least 72 DPI. This way, you will be able to avoid scaling or cropping your banner image, and blurry cover images.
How can I change my LinkedIn background image on a mobile app?
If you cannot access your desktop for some reason, no need to worry. You can also change your LinkedIn banner by using your mobile phone.
Here's what to do:
Open the LinkedIn app on your mobile phone.

Open your profile tab by clicking on the "View Profile" button.

Click on the "Camera icon" on the top right side of your profile tab.

You will see two options in the "Add a background" screen. You can "Upload a Photo" from your device or "Use Camera" to take a new picture and upload it.

After uploading the banner, you can crop it and adjust its position to your requirements. When done, click on the "Done" button on the top right corner.
What should I put as my LinkedIn cover photo?
You can add anything to your LinkedIn cover photo. But, if you are having trouble coming up with creative options, try using these ideas:
Use an image that represents your field
Do you have any particular image that represents your work?
For instance, a teacher can upload a blackboard to represent his work. A writer can add a pencil, or an image of a typewriter, etc.
So think in that way and figure out what describes your profession best.
Use a personal photo.
Are you fond of taking pictures? In that case, you can add any of your photos as a LinkedIn banner image. It can be your own photo, scenery, or an object.
Use a photo of your workspace.
You can use an image of your workspace to give your profile a professional look. By uploading your workspace image, you can showcase your work ethic as well.
Use your favorite quote.
Quotes are a source of inspiration for most people. So if there is any quote that professionally inspires you, consider using it.
Use an image of an award or accomplishment.
Have you received an award for something incredible you did in your industry? Or have you received any rewards from your workplace? You can showcase your awards and accomplishments in your cover photo. This represents your hard work and devotion to your prospects.
Use an abstract image.
Use an abstract image.
Suppose you are having trouble finding an image to represent your brand. You can always use an abstract concept to solve the problem. It could be conceptual art or a photo with a texture that grabs the attention of others.
Use the correct dimensions.
Hobbies and extracurricular
Your cover photo plays a vital role in boosting your profile. That's why you should try to add something that explains who you are and what your authentic story is.
Ideal prospects love to see an aspect of the person they may be working with on the other side of the screen. So here are a few ideas for your hobbies and extracurricular:
Do you love to volunteer outside of work? Share a picture of your volunteer work!

Are you a speaker at industry events? Show yourself on the stage!

Do you love photography? Make a collage of your work and upload it as a cover photo!

Do you love traveling? Upload a snap and share your experiences!
Have a look at these banner images:

(Photo Credits: Pinterest)

(Photo Credits: Pinterest)
Images that represent YOU!
If you don't have a personal picture of yourself, there is no need to worry. You can showcase your personality without actually being in the photo. Just make sure to choose something important to you.
Do you love your city? Take a picture from a unique angle to add as your cover photo!

Do you have any favorite travel destinations? Share your memory!

Have a photo that speaks to you? Put it as your cover photo!

Something that inspires you? Share it!
It may be hard to find an image that speaks to you, but it's worth trying. You can get your favorite photos from any stock website such as Pixabay, Unsplash, Pexels, etc.
Combine and customize
If you want to level up your cover photo game, try using photo editors like Canva or Stencil. Using these online photo editors, you can combine photos, add filters, and include ttext to your images.
This is an excellent method to showcase things like personal branding or products.
Have a glance at these examples of LinkedIn cover photos: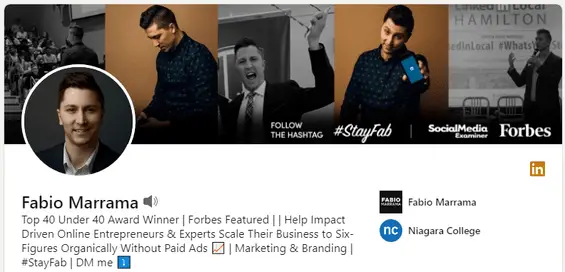 (Credits: Fabio Marrama via LinkedIn)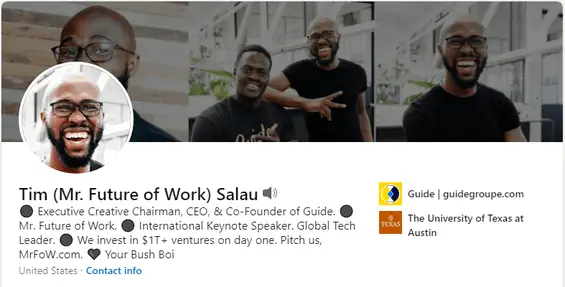 (Credits: Tim Salau via LinkedIn)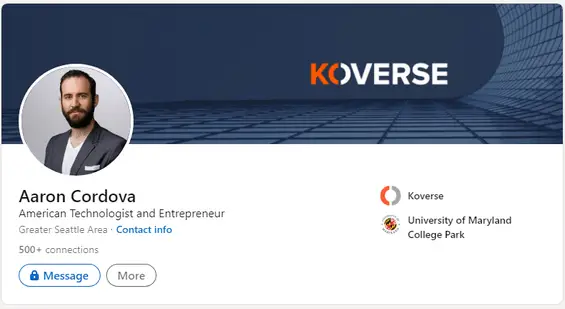 (Credits: Aaron Cordova via LinkedIn)
Here are a few more LinkedIn cover image ideas:
Now, the question is how to use online photo editors to make a cover photo? Well, let's take a look.
How to create a LinkedIn banner for free?
You can easily create a LinkedIn banner by using online photo editors, such as Canva and Stencil. These tools have a variety of options to make your LinkedIn banner.
Here's how to create a LinkedIn banner through Stencil or Canva for free.
How to design a LinkedIn banner with Stencil?
If you want to create a LinkedIn banner with Stencil, follow these steps:
Head towards the Stencil app and select "LinkedIn Profile Cover" from the canvas resizer.

If you don't have a custom background, you can select one from the Presets. If you have one, then you can upload it via the Uploads section.

Now select the elements, such as text, that you want to include in your cover image. You can also upload your logo. It is up to you!

After creating a customized background image, click on the save button to save it. To download your photo, hit the download button after saving it.
You can also use pre-existing Stencil templates and edit them to your preferences.
How to design a LinkedIn banner using Canva?
Canva is another design tool and an alternative to Stencil.
To create a LinkedIn cover image through Canva, follow these steps:
Log in to your Canva account, or sign up if you don't have an account. On the top right corner, click on the "Create a New Design" button. Type "LinkedIn Banner" in the search bar.

You can either design on a blank page or use a pre-existing Canva template.

To upload your images, click on the Upload icon on the left side.

You can also add elements and photos from Canva and design your cover image accordingly.

When you are finished designing, click on the download button and choose the image format. You can download the image in PNG, JPG, PDF, or GIF.
Summary
This is how you can create and upload LinkedIn cover images. However, always remember to use relevant images that represent you or your company.
Remember to pick a banner image with the correct dimensions. By doing so, you will be able to upload your image in HD quality without making it blurry and grainy.
There are a lot of websites that offer you copyright-free stock images for your use. In case you are unable to find a personal photo, consider utilizing these websites.
If you lack ideas, you can pick anything from the suggestions mentioned above. If in doubt, you can always go for a nature shot or an interesting abstract as your cover background.