No doubt, LinkedIn is the leading business network worldwide. Founded in 2003 by Reid Hoffman, the social network for business grow steadly. Here are some of the most impressive numbers to show this strength. It isn't just the countless people that use LinkedIn regularly. LinkedIn is also valued at 166 billion dollars as of 2020 and generates an annual revenue of around 8 billion USD. In fact, 49% of B2B marketers utilize Linkedin for advertising in the United States. Furthermore, 22% of members visit the site every day. With the primary LinkedIn audience being members in the age range of 25-34 years old, the platform is a great way to find experienced employees who are ready to work.
The business model lends itself to connecting businesses with people who are ready for long term employment. A recent study has found that people hired through Linkedin are 40% less likely to leave the company within 6 months. 35.5 million people have been hired by someone they connected with through the site. Linkedin stands as the most trusted social media platform and there are many contributing factors to its trustworthiness.
LinkedIn has 774+ million members worldwide
LinkedIn statistics show, the site has officially surpassed the half billion user mark by a wide margin! Since its inception in 2002, LinkedIn saw its user base continuesly grow year after year. The LinkedIn users come from over 200 countries and territories. At this point, LinkedIn has 774 million members worldwide. North America and Europe make the biggest share: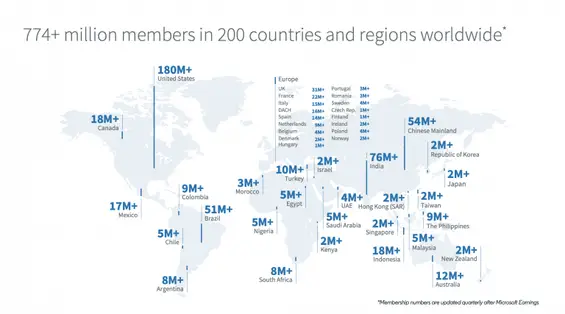 With the announcement to close the operations in Mainland China, the LinkedIn user base is expected to drop.
LinkedIn welcomes 3 new members every second
According to internal LinkedIn data, about 3 new members sign up on the platform every second. This explains the strong growth. However, duplicate registrations and fake accounts must certainly be deducted here. [1]
Almost 200 million LinkedIn members come from Europe
In addition to LinkedIn's increasingly strong presence in North America, there are many other very active markets in Europe too. The strongest markets European LinkedIn are in the UK and France. In total LinkedIn has 198 million members come from Europe. This is closing in on the Asia Pacific region with around 201 million users. In Latin America LinkedIn counts around 110 million users. The Middle East and Africa account for around 65 million LinkedIn users. [2]
LinkedIn is available in 24 different languages
LinkedIn is available in a number of languages. Naturally, the major languages are covered:
English
Simplified (Mainland China) & Traditional Chinese (Taiwan)
Spanish
French
Russian
Arabic
German
Indonesian
Besides this, LinkedIn is also available in several smaller languages: Czech, Danish, Dutch, Italian, Japanese, Korean, Malay, Norwegian, Polish, Portuguese, Romanian, Swedish, Tagalog, Thai, and Turkish. [2]
LinkedIn Demographics: Who used LinkedIn
57% of all LinkedIn Users are Men
According to an October 2020 study of the LinkedIn demographics by Statista, 57% of all LinkedIn members are male leaving women at 43%.
Most LinkedIn Users are between 25-34 years old
Another study from October 2020 by Statista states that most LinkedIn users (59.9%) are between 25-34 years old. This is followed by the youngest target group at 20.3%, aged 18-24. Below you can see a chart showing the distribution: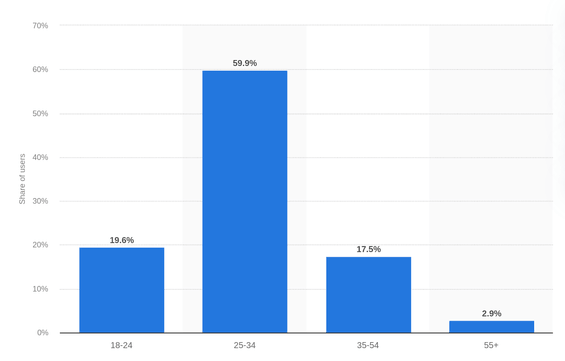 Outside of the many benefits for employers and potential employees using the site, Linkedin is ranked as the most trusted social media platform. Their transparency regarding the company's history and practices makes it the most popular business social network worldwide for B2B marketers and millions of companies alike.
LinkedIn as a company
Microsoft purchased LinkedIn for $26.2 billion in 2016
In June 2016, Microsoft acquired LinkedIn with a hefty price tag of $26.2 billion. LinkedIn was in a downtrend before the acquisition, but has since righted the ship. [5]
Q4 2021 revenue increased by 46% to aronud $928 million
LinkedIn revenue increased $928 million, or 46%, from a low year-ago level, driven by a 97% increase in advertising demand in marketing solutions and an improving job postings in talent solutions. [6]
LinkedIn has over 57 million company entries
In addition to private profiles, there are also company pages. These have now grown to over 57 million and diligently share current news and display job openings. LinkedIn internal data showed that these pages are interacted with more than 1 billion times every month. [1]
There are over 2.9 million LinkedIn groups
LinkedIn is closing in on 2.9 million groups. You can find anything from industry and interest communities, corporate and university alumni groups, and professional associations. [1]
There are over 1,500 newsletters on LinkedIn
The fairly new newsletter feature is personally distributed by LinkedIn. As such, there are just over 1,500 profiles that publish a newsletter.
Over 120,000 educational institutions are on LinkedIn
In addition to companies, schools and other educational institutions such as colleges or universities can also place themselves on LinkedIn. Of these, there are currently about 90,000 entries. A good and active example of this would be Harvard University, for example. [1]
LinkedIn Learning is consumed 1 million hours every week
Not everyone knows that LinkedIn also offers an extensive learning platform. However, this can usually only be accessed via a paid profile. You can get an overview of all courses on the LinkedIn Learning landing page. Worldwide, more than 1 million hours are currently consumed per week. After completing most of the LinkedIn Learning courses, there is also a matching certificate of completion.
LinkedIn has over 1.3 billion visitors per month
According to the analysis platform Similarweb, the social-media giant for professionals has 1.39 billion visitors per month worldwide. This ranks LinkedIn as 22nd most visited website worldwide.

LinkedIn has over 14 million referring domains and 18.7 billion backlinks
According to the SEO tool ahrefs, the domain LinkedIn.com currently (August 2021) has over 14 million referring domains and incredible 18.7 billion backlinks.

The company is growing exponentially every year due to its user-friendly platform and massive employment opportunities.
LinkedIn Job market
LinkedIn Users who are searching for a job can utilize the site to match with their ideal employer. A profile should be curated to the career path that the potential employee is seeking. Listing experience and expectations are great ways to increase your visibility.
Every second 81 applications are submitted
According to LinkedIn data, every second 81 applications are submitted to the platform. This shows how great the reach and acceptance of the platform is in the job market. This totals to more than 210 million applications per month. [1]
4 new jobs are filled through LinkedIn every minute
While new jobs aren't being posted as fast as there are new members, it's still impressive that there are 4 open jobs being filled through LinkedIn every minute. This comes as no surprise, now you can post jobs on Linkedin for free. [1]
There are over 14 million open jobs on LinkedIn
The job market is becoming an increasingly important area on LinkedIn. According to official figures, there are currently 14 million open jobs on LinkedIn. Many of these are remote jobs and recruiters are always on the lookout. This can happen either directly through the company page or via placed job ads. [1]
40 million users use LinkedIns "#OpenToWork" photo frame
The #OpenToWork photo frame signals a user is actively searching for work and makes the job search a bit more transparent. Currently, 40 million LinkedIn users use this feature. [8]
There are more than 38,000 different skills on LinkedIn
Skills are used on LinkedIn to better match profiles with suitable jobs. The database of skills on LinkedIn now comprises over 38,000 entries. These include soft skills such as leadership, but also technical skills such as Laravel or PHP. [1]
Sources