Have you ever experienced temporary restrictions on your Facebook Page or Account? Seems like it's for no good reason? There are few things that Facebook considers offensive or a violation of the community standards. A few to name here include inappropriate posts, too many likes, or unauthorized activities. These activities can be avoided with the help of WhichLogin.
What exactly is the "Facebook Jail"?
Let's understand what exactly is the Facebook Jail. We will also cover if and how to submit an appeal.
Facebook jail refers to a set of Facebook restrictions of some functionality or the entire Facebook account. It happens when Facebook punishes an account (profile or company page) for violations of the Facebook community standards. It infringes Facebook laws (post inappropriate content, post too fast, give too many likes, etc.).
How to know if you're in Facebook Jail?
It's not hard to recognize. Facebook will make sure you failed their content policies without further ado. The usual Facebook messages indicating bans are:
"Your Account is Temporarily Locked"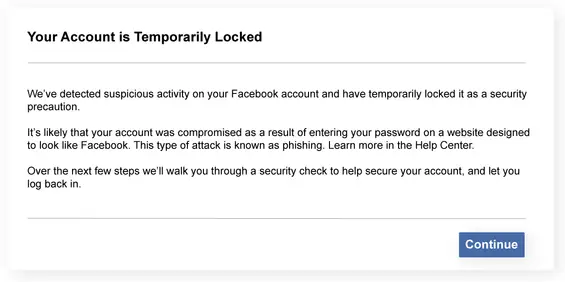 Your Account is Temporarily Locked
We've detected suspicious activity on your Facebook account and have temporarily locked it as a security precaution.
It's likely that your account was compromised as a result of entering your password on a website designed to look like Facebook. The type of attack is known as phishing. Learn more in the Help Center.
Over the next few steps we'll walk you through a security check to help secure your account, and let you log back in.
"Action Blocked"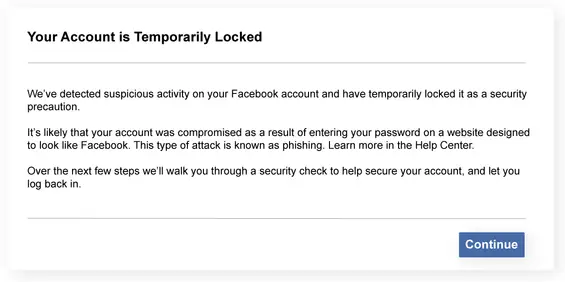 Action Blocked
You're temporary restricted from performing certain actions on Facebook. This is because there's been some unusual activity detected on your account. Your account will be limited until tomorrow at 11:59 PM.
"Your account is restricted for 24 hours / 2 days"
Another case of restriction are the time-based restrictions. The blocked time varies from 24 hours, 2 days up to 30 days. Both full locks as well as partial locks are possible.
Important to know
These messages might vary depending on the type of restriction Facebook applied to your account.
Why have I been restricted on Facebook?
There are several reasons due to which Facebook can block any activity on your account. These are:
When the user is considered spam.
Many friends have been added or reported several times.
The posted content is not in line with Facebook community standards.
The duration of a block depends on the severity of the breach and the user's background on Facebook.
A Facebook block will only restrict a few of your abilities. For instance, it will not allow you to publish on a page or group. However, you can still post on your timeline.
These processes are not carried out by the Facebook team. There is no manual work done here. It's the bots who receive reports from other users across the site. Further, they can also report if there's any suspicious behavior.
What types of blocks are there?
Personal stuff that is offensive
Here are a few things that you should remember while carrying out any activity on your personal Facebook Profile:
Don't give out several invitations to friends at once. Send friend requests only to those you actually know.

Pay attention to private messages. You will get into the Facebook Jail if recipients regularly tag messages as "spam" or "unwanted".

Be sure that you do not just post business information on your Personal Facebook Account. It's best to create a business page for the same.

Avoid sharing low-quality content on your Facebook profile or groups.

Do not post nude, suggestive, or explicit sexual content, obscenity, vulgarity, hate talk, or any maliciousness. Avoid highly political topics such as Covid.
Over Usage or Spam
Spam means contacting users with inappropriate content or requests. This involves sending bulk messages, over-posting links, or pictures on people's timelines. It also includes sending friend requests to users who are not familiar with you.
Spam can often spread over bad connections or malicious program installation.
Try the following steps if you have clicked on a spam item or your account creates unwelcome messages:
Suggest changing your password to log in to your account. You can protect your profile if you can't get into it. Save it using a password manager such as LastPass, if you are worried about forgetting your password.

Unfriend, block or report someone who posts something you believe is usually spam.
Temporary Restrictions and Account Security are closely related
Your Facebook account might be temporarily restricted for security reasons. When Facebook recognizes any security risks, it immediately restricts your account temporarily based on the community standards. You will get notified when you try to log in to a certain website. You can check it from the notifications, visit that website, and log out from there.
Here's how you can do it.
Visit Security & Login

Click "Edit" after scrolling down to Get alerts about unrecognized logins.

Choose where you want your notifications to come from, such as by email or a Facebook message.

Save the changes by clicking the "Save" button.
Now Facebook will warn you if someone is accessing your account. If you got more concerns, can you find out how to protect your Facebook account better.
How to know if my Facebook account is temporarily or permanently blocked?
Facebook can disable or lock your account for a short period or permanently. Facebook is stringent in terms of the safety & privacy of its users. It recognizes any unethical activity from your account and can permanently block it. The Facebook community standards set the tone for this.
If your account is permanently disabled, it shows the message - "Your Account Has Been Permanently Disabled". It cannot be recovered under any circumstances.
What can I do to get back my Facebook account that is temporarily blocked?
There are various ways to unblock your Facebook Account. You can wait until Facebook automatically revokes the restrictions. If this doesn't happen, you can submit an appeal to Facebook to unlock your account. By submitting an appeal, you can potentially get your account unlocked faster. But as usual, there is no guarantee to it.
Waiting it out
After your account was restricted, try not to log in for 96 hours. Before attempting to login, clear your browser's cache, or use a different web browser to log in. If your account is still restricted, then you can count them as reasons for suspicious activities or violation of the Facebook community standards. You should know, the community standards are very important to the Facebook company. After this, you might try to reset your password via your trusted friends or phone number.
How to submit an appeal a temporary account restriction by Facebook?
When your account has been temporarily restricted, you will need to access this form. It is accessible only if you're logged out of Facebook. They will ask for the email or phone number you used to access Facebook.
Enter your full name, as it appears on your profile, scan a legitimate government ID, and whatever other information you have. Please write what you think prompted your suspension in the additional information box. Also, mention what you're doing to avoid doing it again and a simple statement of regret.
I am temporarily blocked by Facebook. Can I unblock myself on Facebook Messenger?
You might have encountered the well-known Can't log into Facebook using this account due to restrictions with the account type. Despite other claim, there isn't an easy solution to it.
You cannot unblock yourself. If your account has been restricted on Facebook, you will also be restricted on Facebook Messenger usually. To use either, you'll have to wait until the temporary restriction has been lifted. There are no reliable tools to get unblocked, don't get tricked.
How To Remove Restriction on Messenger?
There can be various reasons why you are restricted from using Facebook messenger. You may have sent a lot of messages to your connections recently or your messages may have gone against the Facebook Community Standards.
Since this block is temporary, nothing more can actually be done but wait until Facebook unblocks your account. But you can still connect with your friends by leaving comments and posting on your profile.
How long do Facebook bans last?
A complete ban or limits on available actions for your account can vary in type and length. Also, your account history plays a big part too. Typical are Facebook ban lengths of:
Sending too frequent friend requests can lead to restrictions usually lasting between 30-60 minutes.
Inviting friends to fast to pages leads to restrictions between 12-48 hours
Inviting friends to quick to a group might lead to restrictions for 12 hours and increase with more limits exceeded
A restriction on joining groups/pages usually lasts two weeks
Posting restrictions usually increase with the number of previous bans:

first strike: 24 hours
second strike: 3 days
third strike: one week or longer
Staying clear of these limits and warming up an account slowly can help to avoid restrictions.
Is there a way to lift a Facebook ban from commenting or posting on groups?
The group admins have the option to change the privacy setting of the groups. When the group is private, there are certain restrictions on the members while posting in the group. The moment the group admin bans you from posting, you can't lift that ban.
Bringing it together
Facebook is the leading social media platform and is growing its importance for people and businesses. This is a place to make friends, know about events, and a proven platform to boost your business.
However, Facebook has made its algorithm more secure to ensure the safety of users. Follow the guidelines by Facebook to reduce the risks of being in Facebook Jail.