A YouTube video thumbnail gives viewers a brief preview of the video on YouTube. The thumbnail on YouTube is crucial in making a video stand out, grabbing attention, and getting more views.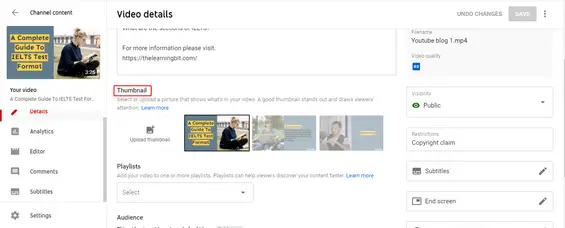 A YouTube thumbnail is the first thing a person will see while browsing videos on YouTube. This image helps them decide which content will provide the most entertainment or best resolve their issues. To summarize, YouTube thumbnails are tiny clickable images that viewers can click to watch a video of their choice.
Thumbnails make it easy for viewers to choose what they want to see because they provide a short rundown of what the video is about. They are similar to book covers. As a result, a high-quality video thumbnail will help the video content stand apart and increase views.
What is the size of a YouTube video thumbnail?
When creating a YouTube video thumbnail, strictly follow the image guidelines. It will ensure the highest picture quality on both desktop and mobile devices.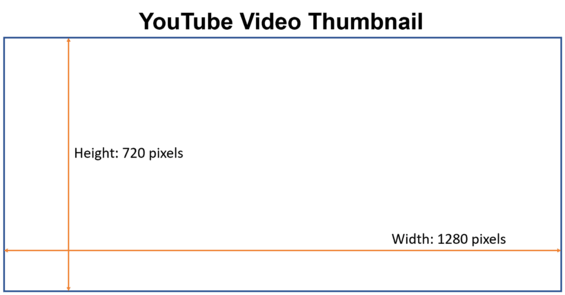 Your thumbnail picture should always follow the recommended size. In the embedded player, it will be used as the preview image. The following are the recommended sizes and ratios for YouTube thumbnails:
The optimal image size for the thumbnail is 1280x720 pixel. The minimum width is 640 pixels (with a height of 360 pixel). But for the highest quality, you want to go with 1280x720.

Try to make the image as high-resolution as possible. However, keep the image size under 2MB.

The image format should be either GIF, JPG, or PNG.

Use an aspect ratio of 16:9 for thumbnail images, as it's the most used in YouTube previews and players.
Ideas on creating custom YouTube video thumbnail
YouTube automatically pulls a thumbnail image from a video if no separate thumbnail is uploaded. However, this limits the potential of the video. To improve the engagement of your video, you should customize it.
Custom thumbnails will help a video to stand out among others. It instantly gives your videos the quality of a more professional-looking production.
Below are some ideas on YouTube thumbnail creation:
Using a custom-made picture with simple graphics and the video's title is the most common option.

Many thumbnail photos can also have the company's name or logo in one of the bottom corners.

A still shot from the video can also be used as the thumbnail. This is usually favorable if it is an action shot or some other form of a creative shot. In such instances, some also use graphic software to add text or logo to the image.

Take photographs or stills from the video and edit them onto a graphic image. This is especially common when it comes to thumbnail images with pictures of people in them. Humans respond to other humans, use this for your videos.

Make use of negative space to make the thumbnail look clean and organized.

Use contrasting and bright color schemes as they tend to draw more attention.

Use the "rule of thirds" to create a clear focal point in the thumbnail image. The rule of thirds strategy results in photographs that are more balanced and engaging.
How to create a YouTube video thumbnail for free
A YouTube video thumbnail has an immense impact on the video's performance. Stencil and Canva are two free tools that can assist with branding a video on YouTube through a striking thumbnail picture.
Stencil & Canva allows users to create unique graphics to enhance videos instantly. These tools work together to make the content creator's artistic efforts visible to as many people as possible.
How to design a YouTube video thumbnail with Stencil
Sign up or log in into your Stencil account.

Select the YouTube video thumbnail size from the Stencil canvas resizer.

Stencil provides a pool of over 5,000,000 photos as a template for your YouTube thumbnails. You can choose from one of these or upload one of your own to the Uploads section.

You can also use one of the YouTube thumbnail templates available in the Templates section.

Add display text or a logo as per your choice. Drag the image to position it accordingly. Save all the changes made.

Download the completed picture and upload it onto the YouTube channel.
How to design a YouTube video thumbnail using Canva
Canva allows the addition of text and design elements to a chosen picture. It also helps to create a clean-cut thumbnail image for a synchronized YouTube playlist or channel. You can conveniently customize your YouTube video thumbnail to increase reach. This can be achieved with Canva's software and the easy-to-navigate graphic user interface.
Canva has a wide range of images, icons, and illustrations to help create an outstanding thumbnail image.
Launch and open Canva on your desktop, laptop, or mobile app.

Use your Facebook or Google account credentials to log in or register.

Search for "YouTube Thumbnails" on the dashboard.

Explore the various templates to choose one that fits your taste and needs. Click on the template to select it and start designing.

Make your thumbnail stand out by using Canva's animation feature. To match the branding, come up with a unique color scheme and font combination.

Customize the thumbnail by uploading artwork. You can also experiment with the layout and other design elements.

Once the thumbnail is done, download it on your device and upload it on your YouTube channel.
On another note: If you are planning to re-purpose your videos for Facebook, make sure to design a custom video thumbnail for your Facebook videos too.
How to add a YouTube video thumbnail?
After completing a video upload on YouTube, select one of the three thumbnail choices. YouTube automatically generates these options, or uploads a custom thumbnail.
Sign in to the "YouTube Studio" account.

Select "Content" from the left menu.

Select the video for which you want to add a YouTube video thumbnail.

Click on "Edit".

Select the thumbnail from the three auto-generated thumbnails. You can also upload your own custom thumbnail by clicking on "Custom Thumbnail."

After selecting a thumbnail, confirm it and click on "Select".

Click on the "Save" button.
Can you change the thumbnail on your YouTube video after upload?
Yes, it is possible to change a YouTube video thumbnail after upload.
Click your avatar in the top right corner of the screen and select "YouTube Studio (beta)" from the YouTube homepage.

Select "Videos" from the left-hand pane.

Select the video for which you want to change the thumbnail image.

Click "Edit".

Click "Edit Thumbnail".

Upload a new custom thumbnail or select from the auto-generated thumbnails.

Confirm and click on "Select".

Click "Save".
Summary
YouTube thumbnails are the gateway to build curiosity in a viewer's mind. The thumbnail image should effectively rely on the idea and content of the video. Make the thumbnail click-worthy enough for the viewer to want to click and watch it. Let your brand speak through the thumbnail image, and make it distinctive from others.