Instagram is undoubtedly one of the best apps to share your photos and videos - or jump on live streams with followers. Of course you can use it too to stay in touch with friends!
Instagram is a blessing, but it can be a curse too. With over 1 billion users, this application is a fantastic way to connect with your friends and favorite celebrities.
However, there are a lot of people who pretend to live a perfect life and fake themselves on Instagram. This can lead to depression. On the other hand, sometimes users get too addicted to endless scrolling (often known as doom scrolling).
No matter what your reasons may be, if you want to leave Instagram, you have two choices. The first one is disabling your account, and the second one involves the permanent deletion of your account.
Should I delete or deactivate my Instagram?
Are you confused between the deactivation and deletion of your account? Well, here's the difference between the two.
If you believe that you want to take a temporary break from Instagram, then go with deactivation. It involves the temporary deactivation of your account for a short time.
When you feel that your break is finished, you can simply log in back to your account.
On the contrary, if you want to leave Instagram permanently, then you can delete your account.
Keep in mind that once you delete your account, you cannot undo this action. Your account history, followers, photos, likes, comments, videos, etc. will be removed from the Instagram databases.
Other than that, once your account is successfully deleted, you will not be able to create another account with the same username.
But if you have already made your decision, then you can take a moment to download your data from Instagram, such as your pictures, etc.
How to download my photos from Instagram?
Before we start the process of account deletion, it is recommended to download your data on your device first.
Downloading your data can be a good thing. You can keep your pictures as memory or use your data for any other purpose as well.
For that purpose, you have to log in to your Instagram account through your website browser (Chrome, Firefox, Edge, etc.).
After that, click on the Settings-icon on your profile page.

Next, click on the Privacy & Security option.

A pop-up menu will appear on your screen. Scroll down, and from there select "Request Download" under the Data download option.

After that, you will be redirected to the next screen. There you have to enter your email address. After that, select the file format and proceed to the next page.

Enter your password, and Instagram will send you a downloadable file within 48 hours.
Now you have downloaded your data let's move forward.
How to delete Instagram from the app?
Suppose you are trying to delete your Instagram account from the application. If you are searching for a delete button inside the Instagram mobile app, you won't have much success with this.
Simply because you can't delete your Instagram account through the mobile application.
The only way to do it is to log in to your Instagram from your desktop or mobile browser.
How to deactivate my Instagram account?
If you want to take a break from Instagram, it is recommended to deactivate your account for a short time.
When you temporarily disable your account, your profile, pictures, videos, likes, and comments will be kept hidden from other users until you reactivate your account again.
Here's how to do that:
Step 1: Head to Instagram.com
First of all, go to Instagram.com and login to your account from a computer or mobile browser.
You can't use a mobile app to deactivate your account. So, if you don't have access to a computer, simply log in through a mobile browser and shift to the desktop version.
Step 2: Click the profile icon
Click on the profile icon located on the top right corner of your screen in order to access your profile dashboard.

Step 3: Click on "Edit Profile"
Click on the "Edit Profile"-button.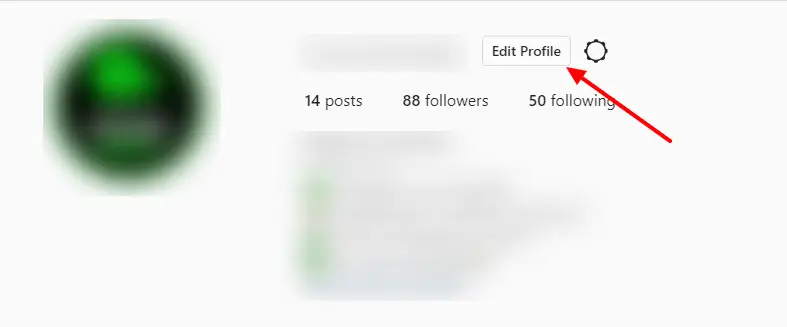 Step 4: Scroll to the end of the page
Scroll down to the bottom of the page. At the bottom right corner, you will see an option "Temporarily disable my account." Click on it.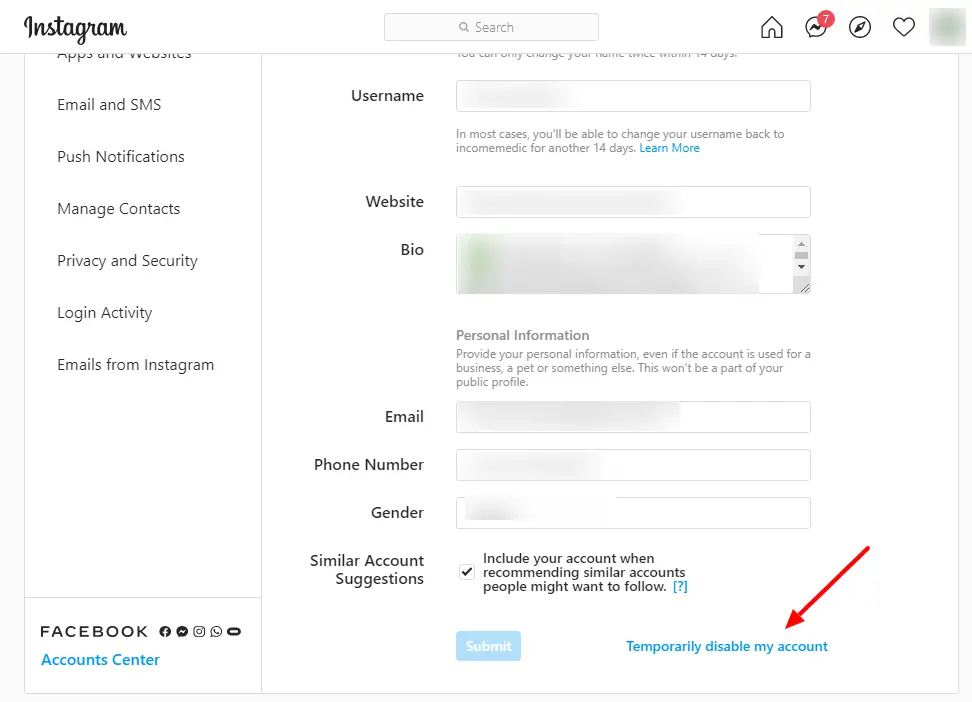 Step 5: Select a reason
On the next page, choose the reason "Why are you disabling your account?" from the dropdown menu.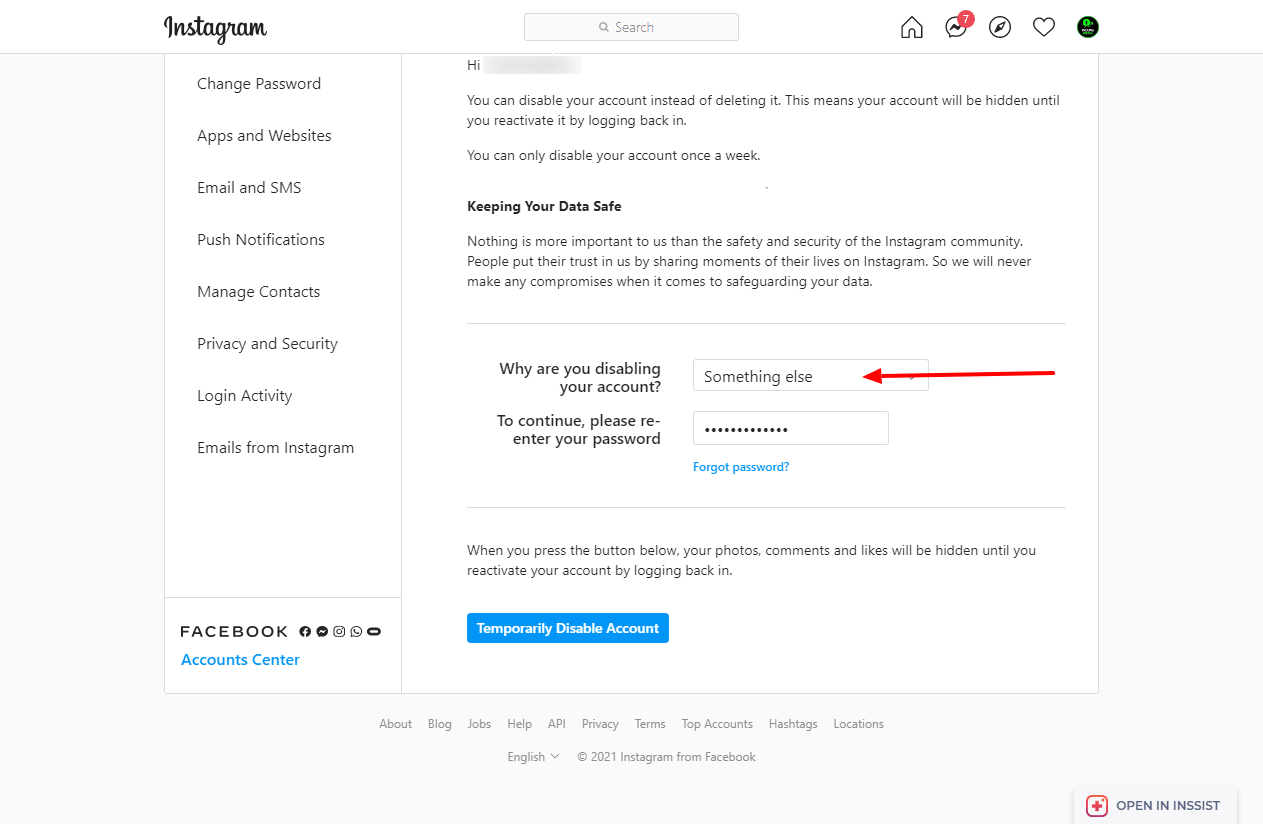 Step 6: Confirm with your Instagram password
After that, re-enter your password to confirm the process.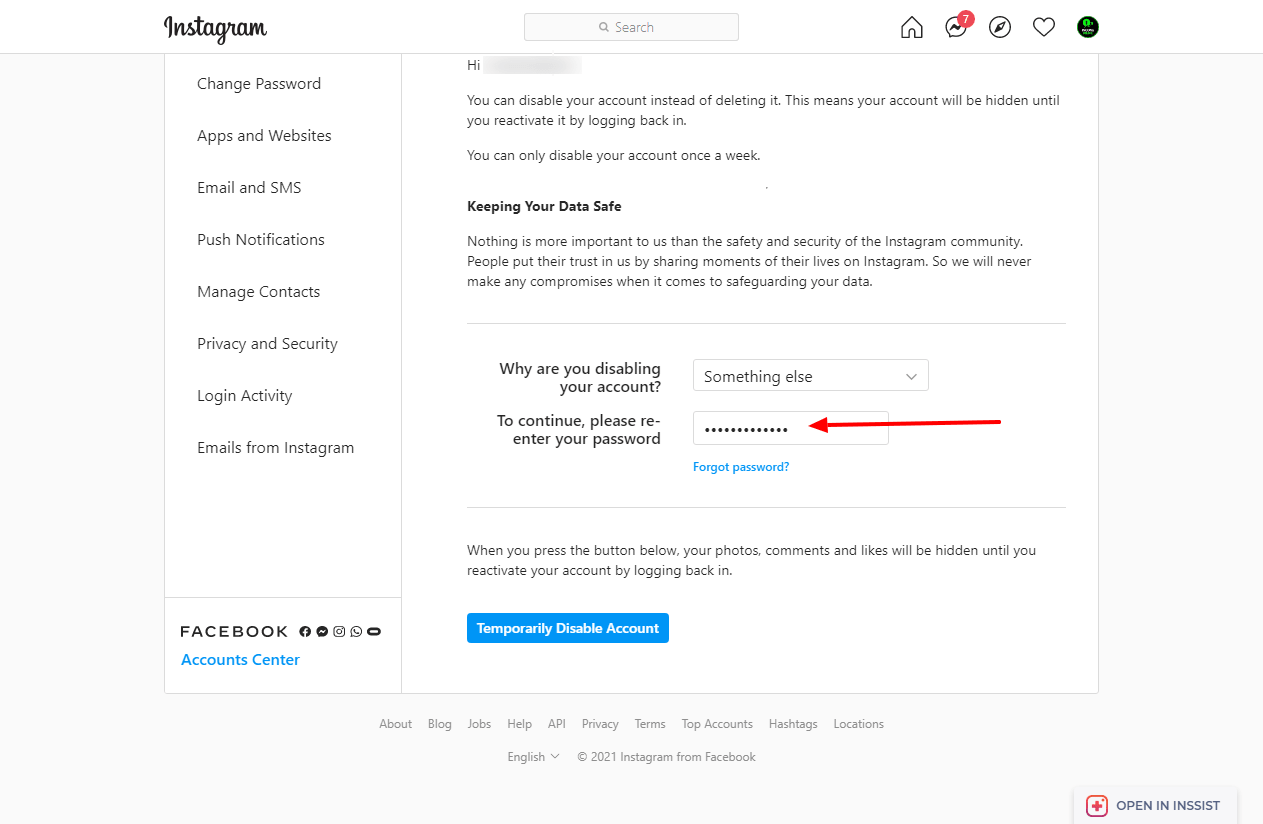 Step 7: Click the "Temporarily Disable Account"-button
After entering your password, a "Temporarily Disable Account" button will appear on your screen.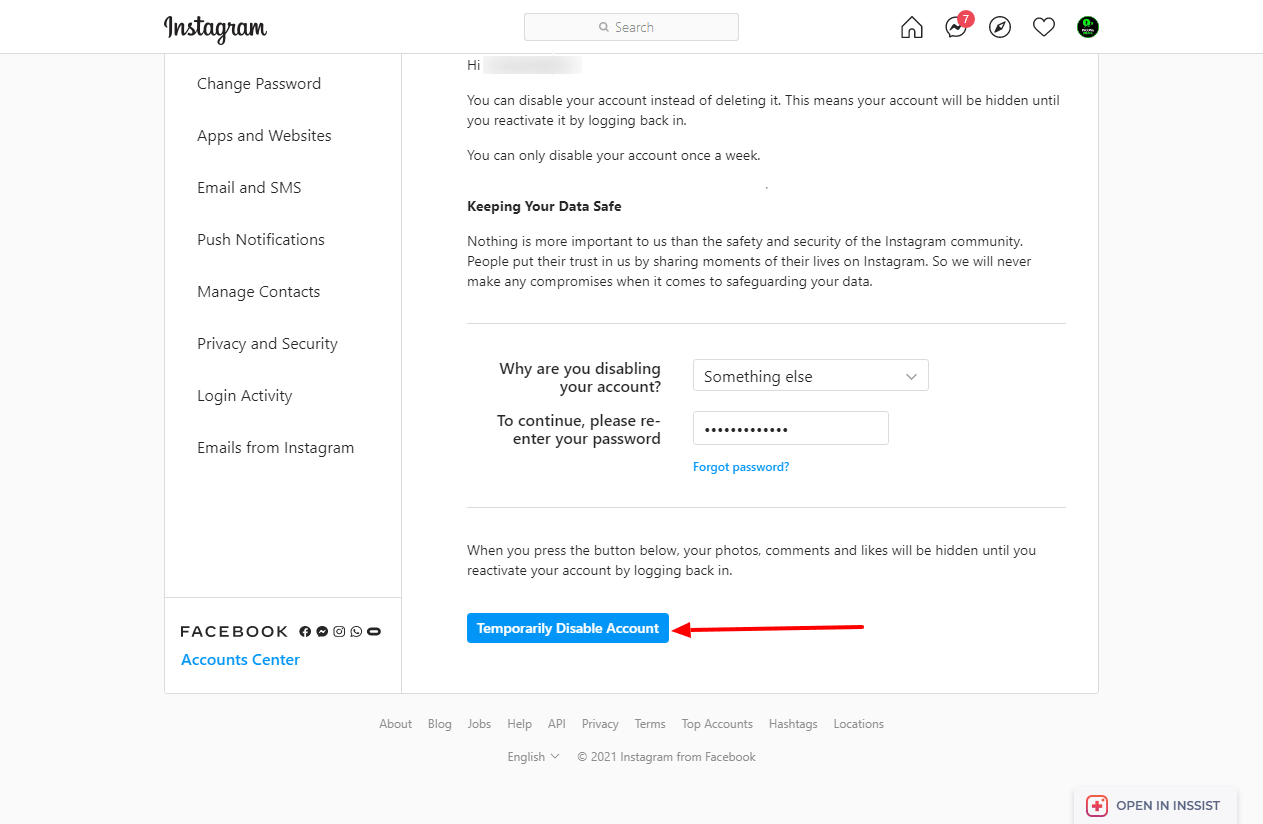 Click on that button, and after that, your account will be deactivated.
However, the deactivation process might take a few hours to effect. Within 24 hours the process should be completed.
How To Delete Instagram Account Permanently?
If you want to delete your Instagram account once and for all, then follow these quick step by step process to get rid of your account permanently:
Go to the Account Deletion Page

First of all, you have to understand that to delete your account, you have to visit the official Instagram website. This process cannot be performed through the mobile app.

Go to the Account Deletion-page.

Select the Reason for Deleting your Account

After heading towards the deletion page, the next step is to choose an appropriate reason for deleting your Instagram account.

After that, you have to re-enter your password for confirmation. After that, click on the Delete button.
Done! You got your life back!
So, this is how you can temporarily disable or permanently delete your Instagram account. I hope this article will help you to get rid of your anxiety issues or loneliness caused due to the fake world of perfectionism in Instagram.
If you similarly need to bring some space between Facebook and yourself, here's how to delete your Facebook.